NutraVantage – How It Works
NutraVantage: A tailored approach to weight loss with the help of a Registered Dietitian that keeps you fully engaged!
Our Registered Dietitians have helped thousands of individuals lose weight safely and provide the guidance, tools and education to keep it off! Based on proven principles and research, they will provide you with a tailored plan that will help you to improve body toxicity, inflammation, and digestive health – all while you eat real food! You will also learn new life approaches that address:
Stress . Sleep . Balance . Food Choices . Exercise . and More…
How it Works
STEP 1. CHOOSE YOUR PACKAGE
No matter where you're at in your weight loss journey, choose the plan that's best for you!
STEP 2. SCHEDULE APPOINTMENT
Together, you and your RD will set your goals and review your plan to ensure you achieve results
STEP 3. TRACK YOUR PROGRESS
Track your results throughout the program and get continuous expert guidance on your progress
STEP 4. LIVE A HEALTHIER LIFE
Working with your RD will help you create lasting, lifestyle changes that will better your life!
ONE-ON-ONE PHONE SESSION
Meet your personal Registered Dietitian immediately and learn how to change bad habits and start living your life. Recent studies have shown that on average it takes sixty-six days to make something a habit. Our Registered Dietitians are clinically trained to provide scientifically based education that helps you create not just a habit but a healthy way of living.  
Learn more about our Registered Dietitians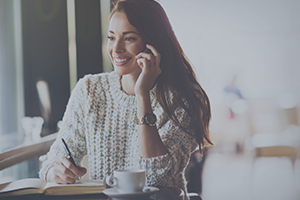 EDUCATIONAL MATERIALS
We want to help you integrate healthy habits into your daily routine. Therefore, we provide a great way to continue learning about nutrition by supplying post educational materials.
Have questions? Checkout our FAQs
MOTIVATIONAL EMAILS
We enjoy helping others reach their nutritional goals! We know it is not easy and we know life gets busy. Therefore, we want to ensure that you have everything at your fingertips to continue making changes. Be sure to check your emails for monthly motivational tips and tricks to help optimize your nutrition.
Ready to get started? No monthly or annual commitment
SHOP PLANS
MEAL GUIDANCE & FITNESS TRACKING
No special app needed for NutraVantage! We will help you develop the best methods for tracking your meals and exercise. Then together we will review, make modifications and reach goals!
24 / 7 ONLINE ACCESS
By registering for your online access, you will have a designated place to view all your educational materials, your goals, track your progress, communicate with your Registered Dietitian and schedule your next appointment.
Tell us about yourself and get started today!