Annually the American Cancer Society sponsors the Great American Smokeout on the third Thursday of November. Join thousands of people who take the first step today toward a healthier and tobacco-free life. Learn more on the ACS website.
Quitting tobacco is one of the most important things you can do to improve your health. Research shows that people who quit smoking can significantly lower their risk of other smoking-related diseases and even reduce their medical expenses (not to mention all the money they save on cigarettes!). The Registered Dietitians at GemCare Wellness have proven success in helping people quit smoking. We'll help you educate yourself, design your quit plan, build a support system, and implement tactics for when you face challenges.
If you're interested in working with a GemCare Wellness health coach who can help you make and implement a plan to quit smoking, review our NutraVantage packages. Get started on building a plan by clicking below to download 5 Steps to Quit Smoking: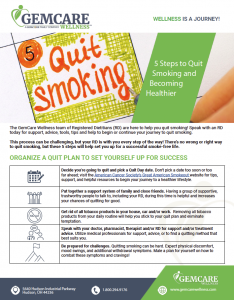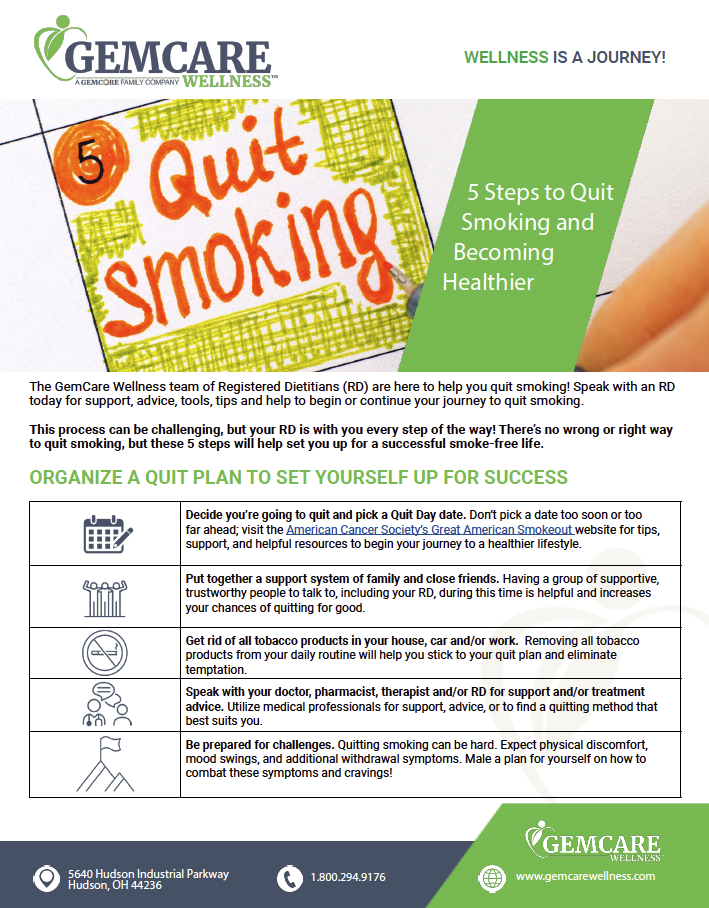 Not ready to commit to a NutraVantage package? Contact us today to set up a consultation! Whether you're an individual looking to improve your health or an employer focused on a healthier population, GemCare Wellness has a program to fit your needs!