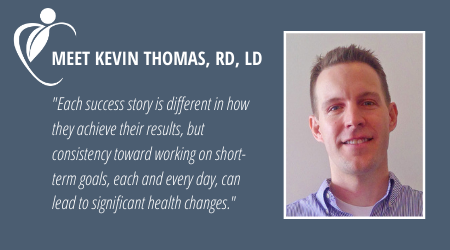 This month's Registered Dietitian Spotlight highlights one of our most popular health coaches: Kevin Thomas, RD, LD. Kevin has over a decade of experience as a Registered Dietitian and has been with GemCare Wellness for three years, helping our members improve their lives through lasting, healthy changes. Kevin says that he's extremely thankful to work for GemCare Wellness and alongside the talented GemCare Wellness Registered Dietitian team.
What do you love about being a GemCare Wellness dietitian?
I love being a GemCare Wellness Dietitian because I get to contribute, in a variety of ways, to my members' health transformations. Some of my many roles include being there as an accountability partner, taking on an educator's role, and providing knowledge. And sometimes, it's just listening and helping them plan their busy weeks, so their health doesn't take a backseat to life's other responsibilities. Being a GemCare Wellness Dietitian is unique in the fact that no two members are the same — and neither is the approach to improving their health. Also, most members are a blast to work with, and they have amazing stories to share!
How has coaching impacted your life?
Coaching has impacted my life in several ways, but the most profound is health awareness. Health is something that can often be easily overlooked until it is taken away by disease or a traumatic event. However, for most people, unhealthy habits are the leading cause of poor health. I've been fortunate to work in a field where I see, firsthand, how a person's health, and conversely their lives, can be positively changed when they become aware of the power that daily habits have on their health. Maintaining good health habits and being aware of those daily habits, as opposed to short-term fixes and fad diets, are instrumental in long-term health and happiness.
What is a memorable member success story?
I have had the pleasure of being a dietitian for the last 11 years, so I've been fortunate to take part in many health transformations. Recently, I've seen some major successes such as a member who took control of his health and reduced his blood sugars by nearly 50%! Another success story would be a member who lost 42 pounds in 8 months without doing anything drastic with his diet or exercise regimen. Another success story would be a member who took control of his blood pressure by including a few diet and exercise changes and reduced his blood pressure by nearly 15 points in 4 months! Most success stories are similar in the fact that the member acknowledges that past behaviors or patterns no longer work and they take accountability by slowly working on improving (not perfecting) their health. Of course, each success story is different in how they achieve their results, but consistency toward working on short-term goals, each and every day, can lead to significant health changes of which they can be extremely proud.
What hobbies do you enjoy?
Some of my hobbies I enjoy in my free time include exercising on my elliptical (which has been instrumental for stress management during the pandemic), swimming in the many beautiful blue lakes of Northern Michigan, going on long hikes with my family around Grand Traverse County, and taking some time to enjoy a good book or two (Atomic Habits by James Clear being my favorite for 2020).