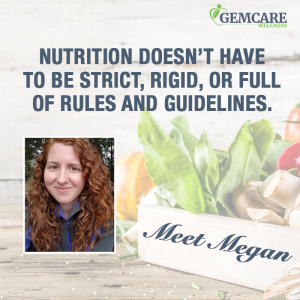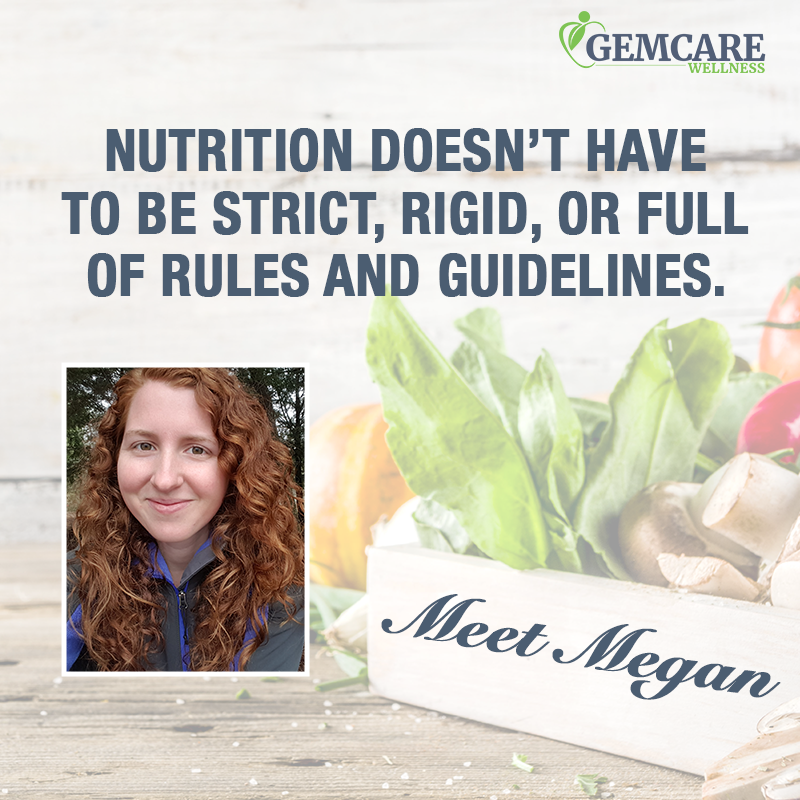 This month's Registered Dietitian Spotlight focuses on Megan Rose whose name shows up time and time again in member surveys. We are so lucky to have Megan and her expertise to help people find their own path toward health and wellness.
What do you love about being a GemCare Wellness Dietitian?
I love that I get to work with individuals on a long-term basis, and we get to develop a relationship over time. I love guiding clients in meeting their goals.
How has coaching impacted your life?
It's completely changed how I view dietetics. I've learned nutrition doesn't have to be strict, rigid, or full of rules and guidelines, but actually can be quite flexible, enjoyable, and empowering.
What is a memorable member success story?
I worked with an individual on lowering his cholesterol over a 1-year period. He was diligent in the changes he made – eating more fruits and veggies and adding flaxseed, tart cherry juice, and regular exercise. He was able to greatly lower his cholesterol without the use of medications. He told me that I saved his life. That was definitely a humbling moment for me.
What hobbies do you enjoy?
I LOVE writing, and I'm currently writing my first romance fantasy novel. I also love dancing with my dogs in our yard (and they love it, too).
If you're interested in working with GemCare Wellness Registered Dietitians like Megan, please contact us today to set up a consultation! Whether you're an individual looking to improve your health or an employer focused on a healthier population, GemCare Wellness has a program to fit your needs!