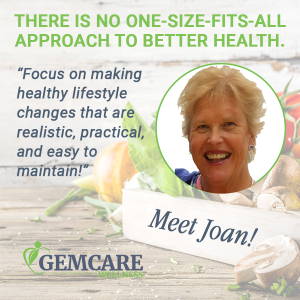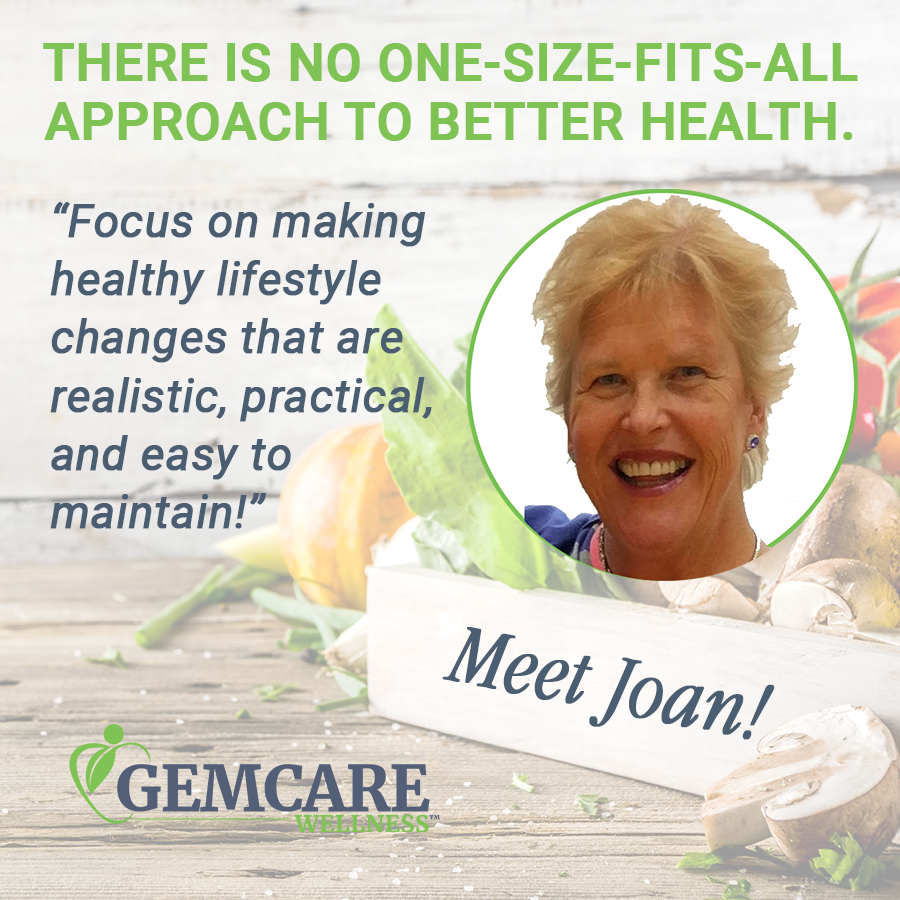 This month's Registered Dietitian/Health Coach spotlight features Joan Tompkins, who has been in the nutrition field for over 30 years. Joan says she's extremely thankful to work with a supportive, positive, and innovative group of people at GemCare Wellness. She says workdays and weeks go quickly with lots to do while having fun doing it!
What inspired you to enter into this field?
When I started college, I planned to go into the food-service business/ hospitality industry (back in high school, I worked at a banquet center and enjoyed the catering business and working at receptions and parties). While at college, I got hooked on nutrition science and decided to go the Registered Dietitian route. When I first completed my degree, I worked in clinical dietetics, assisting patients with chronic kidney failure. Those early years taught me valuable lessons and insight, which I apply today to help our members avoid developing chronic illness, to begin with, and improve their health and wellness.
What do you love about being a GemCare Wellness Dietitian?
I love the variety and flexibility; every day is different with the cases I treat and people I coach nationwide – even in Alaska and Hawaii! I also get to teach classes preventing type 2 Diabetes (Diabetes Prevention Program) and, more recently, tobacco cessation classes. My favorite aspect of this position is being creative and developing education materials for coaches and members.
How has coaching impacted your life?
Coaching challenges me to practice all of the healthy habits I recommend to clients! For example, a few years ago, I realized I was recommending Strength Training (ST) all of the time and not doing it myself….so I established a routine to make sure I do ST a few times per week. Coaching has also helped me realize we are all a work in progress, regardless of our age and stage in life.
What is a memorable member success story?
Early in my career, what was most memorable was having former patients I worked with on dialysis come back to visit me after receiving a kidney transplant — that was epic and so great to hear from them, and humbling to be a part of their journey for improved health. They truly got their lives back! More recently, I had a couple that I worked with over a year ago reach out to share the progress they were making. They both continue to lose weight and are living an active, healthy lifestyle. Hearing from past members I have coached inspires me every day!
When you are not coaching, where can you be found?
Likely outside walking our Siberian Husky! I also enjoy swimming and reading. My mantra is: Life is better by the pool, in the pool, at the pool! I have also raised two young adult children who are now out on their own; Raising my family was the most rewarding and challenging work I have ever done! I love spending family time with my children and husband of 30 years and enjoy watching movies and sports. I am involved in a women's prayer group at my church. When the pandemic is finally over, I can't wait to get back to enjoying live music and going to concerts.
What three tips/advice would you provide to a new member/client?
First, establish your health and wellness goals. Second, develop a plan to achieve these goals. Third, make adjustments as needed along the way. There is no one-size-fits-all approach to better health. I aim to help people, help themselves and focus on making healthy lifestyle changes that are realistic, practical, and easy to maintain.
If you're interested in working with GemCare Wellness Registered Dietitians like Joan, please contact us today to set up a consultation! Whether you're an individual looking to improve your health or an employer focused on a healthier population, GemCare Wellness has a program to fit your needs!